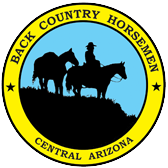 BCHCAZ meeting 3/2/2020
 Agenda
Roll Call – Quorum
Approve Agenda
Previous Minutes – Highlights (transition)
Committee Reports
Old Business

Events

Trail Maintenance
Thumb Butte
Groom Creek
Rodeo
Clinics
Cowboy Poets
Bumblebee Ranch
Christmas Party

New Business

Create Committee Members
Vacant Roles
2021 Rose Bowl Parade
Socials / Rides
Volunteers
New Members
Meeting Locations
Technology
Sedona / Camp Verde

Comments / Add'l topics
Adjourn
Roll Call: 
President – Craig Ferdig
Vice president – Gayle Gardner
Treasurer – Dan Thornhill
Secretary – Rene Ferdig
Membership Coordinator – Sharon Wilhelm
Former President – Alan White
Approve Agenda:   Approved
Previous Minutes – will catch up next meeting, when minutes are attained from Abby
Financial review: 
Year to year trending – up.
Compared to Kingman and East Valley (high % snowbirds), we are very healthy
Budget plan would be useful. What do we spend our $$ on?
BCHAZ legacy funds – $1000
EEE – $1000
$18 to national (of total $40 individual)
$5 to state
Alan – Junior membership fee for up to 21 yrs – needs to be determined. Acquisition and retention of membership is the #1 issue.  Sponsor for FFA or 4H.  Monti Soto (ag school).  Jr Rodeo kids?
Committees:
Public Lands (to influence policy at the local level based on national initiatives), chaired by Rod Player out of Utah, reporting to the national level.

Joined lawsuit against eBikes

Bumblebee 11/6-8 – Craig will run point. Committee members:  Wendy, Jenni Rench, Rene, Roxanne?
Little Thumb Butte ride – Jim and Gail Higgs (Date?)
Groom Creek cleanup April 25th – Spike Hicks
Trail Maintenance –none currently on the schedule. Alan will coordinate with Forest Service

Feasibility
Viability
Prioritize

Packing – Paul Haese (last year). Has relationship with Forest Service

3 trips deferred last year due to weather

Rodeo –

Parade (Gayle G)
Bartending (Gayle G) ($1000 +/- each year)
Saturday 7/4 is parade day
Rodeo dates to determine bar tending

Cowboy Poets Breakfast (8/9 – Sunday morning)– Jim Buchanan + volunteers
Christmas Party 12/11 (Friday night) – Katherine Thornhill
Parade Committee – Gayle, will compile list of parades
Membership and Volunteer Hours – Sharon Wilhelm. Leann was the keeper of state volunteer hours
Forest Service business –
Stringfield Trail Head – kiosk to be completed
Target $6,000 for trail maintenance, including gates.

Swinging gate without stepover – about $300. Gayle will photo gate at end of neighborhood.

Specs from Forest Service for gates?

No current commitments against the funds
Mingus trails – Lea Detweiller
State Reps – Alan and Dan have attended state meetings.  AZ state chapters hold the initiative and money, decisions made locally.  State representatives needed to vote at the state board. Jim and Gail Higgs were state and national reps in the past.  Positions are not critical, though important.
May tap into the Verde Valley / Cornville group. Joan Bauk.

Activities – some in the Sedona / Verde Valley to be more inclusive for that group
Potential site – Nashwa farms equestrian facility – 3500 W. Mahoney Rd, Camp Verde
Rose Bowl Parade – Gayle Gardner will fill out the application.
Social Events – quarterly social events now.  People want more.  Need to plan for seasonal members.
Thornhills will organize first one.
Board meetings – Location, date / time
April 6th, 6:30 at the Ferdig house. 9925 E. Mummy View Dr, Prescott Valley (Coyote Springs to Mummy View).
Projector technology – Craig
Meeting Adjourned