2023 Scrapbook
APRIL – After a couple years of not having access to the grounds for our annual cleaning because of COVID and fires we were finally able to get to work on cleaning up the Horse Camp.  The grounds looked fabulous when we were done.  The tractors sure helped!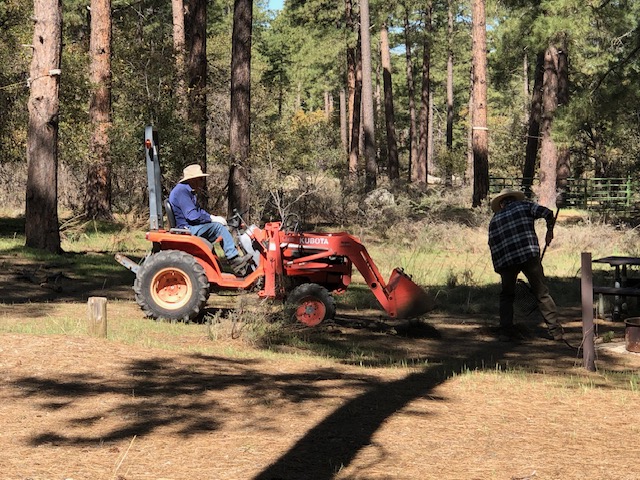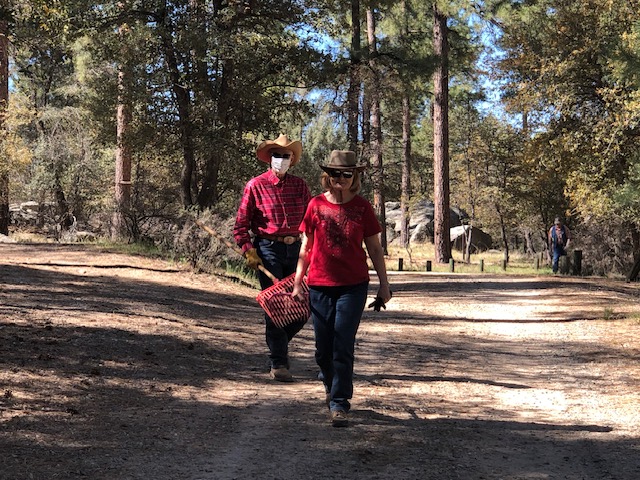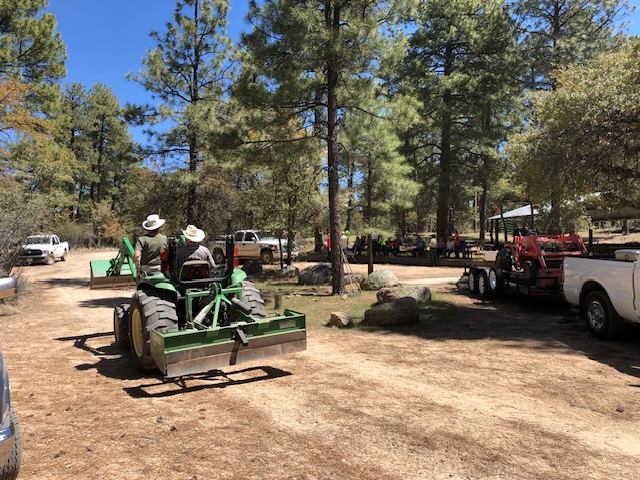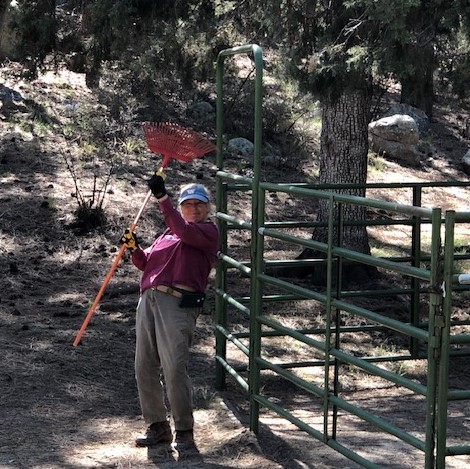 MAY- Shelly Day, Bill Arsenault (State BCHA President) and Jacque Gorman (Central AZ VP) hosted an information table at Tractor Supply in Prescott Valley to spread the word on our mission.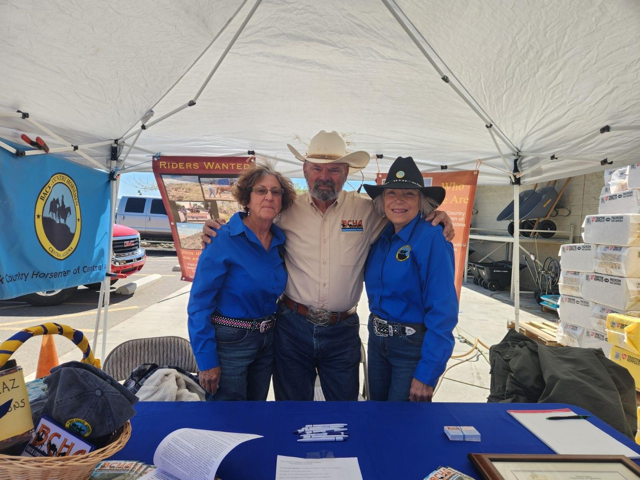 AUGUST – Cowboy Poets Gathering Breakfast.  As a sponsor for the 14+ year of this great event we served breakfast to 171 volunteers, poets, musicians and committee members.
2020 Scrapbook
(Be sure to click "View more photos" under each album!)
Feb 9th – Annual Meeting
2019 Scrapbook
(Be sure to click "View more photos" under each album!)
1st Annual Festive Holiday Party – enjoyed by all. Gail Steiger, singer/poet/songwriter, was our talented entertainer.
Annual Fundraising Event at Bumble Bee Ranch… the BEST one ever!
---
Arizona Cowboy Poets Gathering breakfast prepared by BCHCAZ members
---
Prescott Frontier Days Parade
---
Bartending Fun at Prescott Frontier Days Rodeo….earned more than $1250 in tips!
---
Scarlett Trail Gate
BCHCAZ and Yavapai County Adult Probation team up to install a new gate on Scarlett trail at the boundary of the Granite Mountain Wilderness area.  Trail maintenance and new gate enable access to the right-of-way adjacent to American Ranch, Prescott, AZ.
---
Kiosk Install at Stringfield Trailhead
Members of BCHCAZ and Prescott National Forest install kiosk and hitching rails at the Stringfield Trailhead on the west side of the Almosta Trail system.
---
Little Thumb Butte Ride/Brunch
Famous, annual Little Thumb Butte Ride/Brunch.  Approximately 24 riders and 37 for brunch.
---
Groom Creek Horse Camp
We only have one photo to date of this amazing event!
---
National Trails Day project at White Rock Trail Head. BCHCAZ sponsored the drinks, water and water melon refreshments for about 75 trail workers.
---
Spring Social at the Thornhill's – enjoyed by all!
---
Annual 2019 Meeting/Election of Officers – March
---
2018 Scrapbook
(Be sure to click "View more photos" under each album!)
Ribbon Cutting at Almosta Trailhead – Dec. 18, 2018
State Parks Directors' Demo at Rockin' River Ranch September 7, 2018
Bumble Bee Ride and Fundraising Event
Cowboy Poets' Breakfast
Prescott Frontier Days Rodeo Bartending
Quarterly Meeting Watson Lake Ramada
Pack Trip to Kendrick Mtn Fire Tower 5/22/18
National Trails Day with PNF
BCHCAZ 2018 Horsemanship Safety Series From the Saddle
BCHCAZ 2018 Horsemanship Safety Series Groundwork
Almosta Trail Work Day
April 5th, clearing brush and rocks from the two Jim and Gayle Trails #1959 South and #1959 East beyond #626
2018 Annual Meeting
Installing Stringfield Trailhead signs off FR 40
2017 Scrapbook
Packing Clinic with Jack Emory
2017 Annual Bumble Bee Ranch Ride and Fundraiser
4th of July Parade in Prescott
Historic Hat Ranch Weekend – An evening of pot luck
Packing Clinic
National Trails Day
Ranch Trailhead No 62 – 3.5 miles of new trail. (Photos courtesy of Karen Moseley)

Groom Creek Cleanup
Ranch Trailhead No 62 – 3.5 miles of new trail. (Photos courtesy of Karen Moseley)
Yew Thicket – Sycamore Canyon Trail Work
Packing for USFS & YCC (Youth Conservation Corp) into Sycamore Cyn. Carried water, food, bed rolls, tools, tents, misc to work site. Total = 90 miles.

Four Peaks Pack Trip
Four Peaks Wilderness on the Arizona Trail, overlooking Theodore Roosevelt Lake. Packed water for USFS and ACE (American Conservation Experience) work crews. Three hitches over 2-days, carrying 20 gallons (weight 166 lbs) /trip/animal.
These photos taken by Keean Ruane, Jason Williams, and Paul Haese with Keean's device.

Secret Canyon Wilderness Pack Trip
Clean Up of Secret Canyon Wilderness

Spur Cross Trail Pack Trip
Annual Meeting
---
2016 Scrapbook
2016 Annual Bumble Bee Weekend Ride and Fundraiser
---
Annual Cowboy Poets Gathering Breakfast
The annual Cowboy Poets Gathering breakfast was once again a huge success! BCHCAZ members prepared and served 172 breakfasts to the Poets and their families at the beautiful Buchanan ranch.
---
Groom Creek Cleanup
Had another great turnout for our annual Groom Creek Cleanup day.  Come and camp with your equine in this beautiful setting in the pines.
---
Verde River Ride
Our annual Verde River Ride and brunch at Little Thumb Butte B & B.  It was a rainy drizzly day, but 29 hardy souls and their steeds forged the 10 chilly water crossings and had a grand time.  The fabulous brunch that awaited them was, indeed, most appreciated.
---
Almosta Trail System
Liz Mahon and her trusty mules, Spike and Amos, along with other ambitious two legged friends, hauled several 8′ posts for the new signs indentifying the new trails in the Almosta Trail system.
---
Sara Murray LIFETIME AWARD
Sara Murray and her late husband, Denny (past President of BCHCAZ), was awarded a Lifetime Award for their initial and continued involvement in BCHCAZ. Their efforts from the inception of our local chapter are truly appreciated. The award should be called the "Step Up" award as that is what they always did and could always be counted on. Thank you Sara and Denny!
---
Teresa Chase Volunteer Award
Spike Hicks presenting a 'check' for $39,034 to United States Forest Service representative Teresa Chase. This is the dollar value of our chapter's volunteer hours in 2015. Keep up the good work!!
---
2015 Scrapbook
Little Thumb Butte B&B – Verde River Ride, MAY 2
Almosta trail
Groom Creek Clean-Up
---
2011 Scrapbook
2011 Annual Meeting
Yew Thicket Trail Project
BCHCAZ Prescott Mountain Bike Alliance get together at Cayuse Trailhead
Trail Classification/Inspection Project
Women's Packing Clinic & Overnight Trip
Almosta Trail – Phase 3
---
2010 Scrapbook
Almosta Trail Phase 2
2010 Flagging new trail connector to Almosta Trail
Building Almosta loop with PNF Trail Specialist, Ron Hehlen, Feb. 2010
Wilderness office meeting with PNF, Jason Williams, Trails, Wilderness, Dispersed Recreation Manager
Jeff Gursch of the AZOHV Coalition using his SWECO to build trail 1937, the Jim Higgs Trails, and 1959, the Gayle Higgs trail
Helping with breakfast at the annual Prescott Cowboy Poet's Gathering
Construction of the Groom Creek Horse Camp Pavilion
Annual Ride at Bumble Bee AZ
Sycamore Canyon
Installing Equestrian Gates on the Verde in Partnership with the Prescott National Forest
---
2009 Scrapbook
Almosta Trail Gate Installation
BCHCAZ serving Breakfast to Cowboy Poets
Groom Creek Horse Camp Cleanup, with the help of the Prescott Saddle Club
Annual Meeting
SWECO
Kendrick Pack Trip – May 2009
Annual Ride at Bumbleebee Ranch
2009 Equifest
---
2008 Scrapbook
---
2007 Scrapbook
---
2006 Scrapbook
---