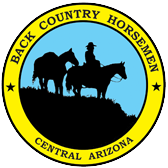 BCHCAZ Board Meeting – December 7, 2020
Conference Call-in permanent number: (978) 990-5239, ID: 351324
Roll Call – Quorum
President – Craig Ferdig
Vice President – Gayle Gardiner
Secretary – Rene Ferdig
Treasurer – Dan Thornhill
Trails – Spike Hicks
Katherine Thornhill
Approve Agenda:  Approved
Financial Report / Membership – Financial report sent by Dan.  Beginning balance: $17,276 with ending balance of $27,332.65.
Events
Dec 5th – Self Defense on Horseback was held at the American Ranch. 15 riders in two sessions.  Very positive feedback from attendees. Plan is to schedule another in the spring.
Holiday Party / Annual Meeting BBQ Lunch planned for Bumblebee on February 21st has been canceled due to current health conditions.
Annual meeting will be held VIRTUALLY on Sunday, February 21st. Announcement will be made in December, including membership renewal form, annual meeting topics, etc.
Later in the spring we'll look at a social get-together in a location which is central, such as the pavilion at Watson Lake or Thumb Butte.
Sedona Subcommittee
Sedona – 12/3 Gayle and Craig rode two trails in Sedona with Joan and Stephanie on foot to identify dangerous spots and lack of signage.
Details of the Sedona report are available below.
Comments/Additional Topics
Ann Hendrickson (Yavapai County Trail Association) worked with Craig to create a grant request through Arizona Community Foundation for $20,000 for 8 mile trail cleanup and better signage in some locations in the Almosta Trail system. Committed BCHCAZ to four volunteer days for this activity as well ($8,000 volunteer contribution).  BCHCAZ will also provide $2500.  If successful, Ann will help us write more grants for 2021.
Annual membership enrollment plan drive needs to start now! $18 to National and $8 to State, leaving us $17/member.  Currently have ~70 members, down from the year before.  Many are family memberships.

Mailings to anyone who has been a member in the last three years
Need the letterhead from Sharon. Katherine will take over membership to get the mailings going.
Gayle will investigate other equestrian groups and options for discounts on memberships with other equestrian groups.
Need to list advantages such as insurance for horse-related businesses through BCH which is very economical.
Membership subcommittee: Katherine, Craig, Gayle

Budget request for 2021 – $2500 for the Grant money, $1000 to assist Sedona committee for signs, paint, etc., extra money for trail maintenance, $4000. $7500 total for 2021.  Excludes the annual event budget.  Motion carries – approved by the board.
Adjourn
SEDONA UPDATE
11/17/2020 – Rode representative section of Girdner trail with Gayle and Craig.  Joan videoed the ride in sections of trail most Sedona equestrians find to be dangerous due to tread so narrow that turn-around or passage of on-coming/faster traffic is impossible, steep drop, and insufficient line of sight.  The video will be included in a follow-up report, see below. This same day Craig rode Hawk up armored section of Axis which Sedona equestrians deem unsafe.  Hawk, even as a 23-year trail veteran lost rear footing.
12/3/20 – Joan and Stephanie met with Jennifer Burns regarding NEPA, SOPA and other design documentation for the Western Gateway trail system.  Jennifer has agreed to procure the NEPA for us.  Jennifer indicated the SOPA would not provide us any useful information as it only represented a proposed timeline of work.  We asked Jennifer if there was any other official documentation on the trail system design and she said "no".  When we pressed her further, indicating we had been told an "architectural"-type document was required for all trail planning/construction.  Jennifer replied she was unaware of such documentation.  We agreed to send her the link to USF "Standard Trail Plans and Specifications".  The webpage indicates USDA "developed this information for the guidance of its employees, its contractors, and its cooperating Federal and State agencies. The Forest Service assumes no responsibility for the interpretation or use of this information by anyone except its own employees."   However, nowhere does the page indicate the use or filing of these plans is mandatory, that we could see.
Also at this 12/3 meeting, we spoke with Jennifer regarding the problems on Girdner and Axis per the ride with Gayle and Craig on 11/17.  We asked Jennifer for her suggestions as to how we should proceed to either resolve these problems or effect work-arounds for safe equestrian use.  Jennifer requested we hike with her to show her the issues.  We jumped on the opportunity and will be hiking with her for this purpose on Thursday, 12/10.
Jennifer admitted it is known that work still needs to be done on Girdner, in particular.  Once she has seen the problems first-hand, Jennifer said she would speak with Forrest personally and likely recommend the work be put on the "small projects" list for scheduling.  We replied the current small projects, scheduled over 2 years ago, were not complete and not scheduled for completion even in 2021.  Our frustration was clear.  Jennifer acknowledged this and said she would push for Forrest to get moving on the current projects and not allow anything needed in Western Gateway to linger.
Craig indicated on the 12/3 ride that he noticed the lack of "caution" and "trail etiquette" signage.  Craig indicated, if we could get approval from RRRD,  BCHCAZ may be able to contribute funds and guidelines toward posting such signage to help with user conflict on Sedona's high usage trails.  Joan is in the process of working through approval process with RRRD.
We will report on the results of our hike with Jennifer and include the video Joan took of our ride with Gayle and Craig as visual reference to some of the specific issues.
Joan has been working with Chris Johansen regarding the problem of trail access for equestrians due to lack of designated horse trailer parking.  Some trailheads have designated parking now, which is consistently made unavailable due to other users usurping those designated spaces.  Joan is working to have approval for us to paint the trailer designations onto the parking lot pavement.  Once approved, cost would be approximately $300.
Good news is that Chris Johansen did send our volunteer Rangers to provide designated trailer parking enforcement at Bell Rock this weekend.  Joan observed one horse trailer space open up for an equestrian and a car "orange stickered" as a result of this enforcement effort.  Joan wrote Chris a thank you email.