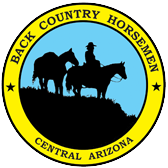 BCH CAZ Annual Meeting
February 27, 2022   12:00pm
Meeting called to order – Craig Ferdig.
Cowboy Poetry recited by JC Konecny.
Intro and mission statement – Craig

Background on Almosta Trail System and some of the founders: Jim Higgs, Jim Buchanan, and Spike Hicks
Three trail heads: Williamson Valley TH, Almosta Ranch Rd TH, and Stringfields TH. Over 35 miles of trails.
Almosta Ranch Rd trail head goes through private community. Be courteous at all times. Our access could be taken away by the community if abused.

Financials – Craig.

Over $30,000 in checking and over $5,000 in money market
We give select 501c donations each year (LASER, EEE, …). $1000 set aside for 2022
Grants – in partnership w/ Yavapai Trails Association, to provide maintenance on Almosta trails. Some of the grant money must be matched with volunteer hours.

Packing – Thank you to Mark and Lori Stavropoulos for leading the packing efforts, especially for the Kendrick Mountain Fire Watch tower restocking. They showed a pair of custom packs for carrying odd shaped equipment and saws.
Membership- over 100 members now.
Back Country Horsemen of Arizona – State President Bill Arsenault

Focus on growing membership and education of equestrians statewide.
Tractor Supply will be working with BCHAZ for membership drives in the stores
Growing better relationships with all forest services statewide.
Would like to start more chapters (Tucson, Coconino county…)
Bill is a Horses with Heart volunteer and always looking for more volunteers

Election – introduction of candidates

President – Craig Ferdig
Vice President –

Gayle Gardiner – incumbent. Has led the parade organization and rodeo bartending. 12 years in Prescott.  Helped scouts earn horsemanship badges.
Jacque Gorman – owner of Granite Mountain Stables w/ 65 horses.  Would like to increase involvement from locals in BCHCAZ.  Speech Therapist

Secretary – Wendy Timmel (Rene Ferdig has stepped down)
Treasurer – Joan Bouck from our Sedona group. Strong financial background.

Alan White – Public Lands

Public land size 618 million acres are public, out of 2.2 billion acres for the entire country.
Managed by BLM (Bureau of Land Management – Dept of the Interior) and the NFS (National Forest Service – Dept of Agriculture)
Trail user groups are under NFS
Bikes / eBikes in the wilderness update
Non-equestrian use of Horse Camps. Determined by local NFS.  Rules are non-equestrians will be allowed to camp in horse camps if a site is open after 6pm.  All equestrian users of horse camps should monitory and document all interactions with non-equestrian users.
org has videos on their website with more details on policy

2021 Events – Craig

Horse Lords
Ned Leigh Clinic
Cooking breakfast for the Cowboy Poets final day in August
Little Thumb Butte Ride and lunch
Rodeo bartending
Trail Maintenance
Multiple rides
Bumblebee annual fundraiser – was a success!
Trail Safety Coalition – 300 bike bells placed at trail heads.

2022 Events – Craig

Groom Creek cleanup scheduled in April. Waiting on NFS for date.
Rodeo bartending – Gayle has requested 2 nights this week or 1 full and split night with another group.
Rodeo parade over July 4th
Trail Safety Coalition – 300 more bike bells placed at trail heads.
Memorial Day weekend campout at String Field TH.
Multiple rides planned. Dates will follow.

Policies and Challenges

Equestrians are being squeezed out on the trail; uniting with other equestrian groups is key
Non-equestrian campers at horse camps – a white paper is being sent to all rangers regarding concerns of campers unfamiliar with horses and risks. Record all observations and interactions with non-equestrian campers and provide to the US Forest Service.
Some horse camps have no trails, but only roads to ride on – Huston Mesa Horse camp near Payson.
Still no camp host at Groom Creek. Waiting on NFS to fill the spot.
Election results

President – Craig Ferdig (there was a rumor of one write-in vote for Mickey Mouse)
Vice President – Gayle Gardiner with 25 votes over Jacque Gorman with 21 votes
Secretary – Wendy Timmel
Treasurer – Joan Bouck
Next Board meeting is Monday, March 7th at 6:30pm.  Open to all members.  Let Craig know if you'd like to attend.
Adjourned.