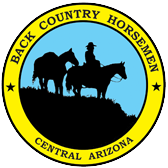 BCHCAZ Board Meeting – January 5, 2021
Conference Call-in permanent number: (978) 990-5239, ID: 351324
Roll Call – Quorum
President – Craig Ferdig
Secretary – Rene Ferdig
Treasurer – Dan Thornhill
Trails – Spike Hicks
Approve Agenda:  Approved
Finance and Membership update
Update on Membership Drive
Update on Trail Issues(347) and Jason's Priorities for 2021
Grant Update
Sedona Update
Financial Report / Membership – Financial report sent by Dan.  Beginning balance: $27,332.65 with ending balance December 31st of $26,600.27.
Trails Update from Jason (Prescott Nat'l Forest):
Trail 347, riders having multiple run-ins with bicyclists. Jason's first goals for 2021: signs on 347 re: trail etiquette and aggressive signs with consequences to bicyclists.  Also will direct heavy equipment to "knock down the fun spots" used by bicyclists.
Kiosks at Stringfield and Contreras will have new signage.
White Spar Trailhead shut down access to horses. Potential new parking lot for horses. Going through Hearing process.
Mark and Lori Stavropolis will pack up to Kendrick Mountain in the spring.
Would like help with Summit Trail (packing).
Almosta Ranch Trails gates – gates 1 and 2 were originally installed by The Preserve at the Ranch. BCHCAZ cut the dips in them in the center so horses could step over. BCHCAZ installed the 3rd  More and more reports of horses being injured and people avoiding the trails because of it.  Gates like this to keep motorized vehicles out.
Grant Update:
Waiting for update on the grant. Details – Ann Hendrickson (Yavapai County Trail Association) worked with Craig to create a grant request through Arizona Community Foundation for $20,000 for 8 mile trail cleanup and better signage in some locations in the Almosta Trail system.  Committed BCHCAZ to four volunteer days for this activity as well ($8,000 volunteer contribution).  BCHCAZ will also provide $2500.  If successful, Ann will help us write more grants for 2021.
Events:  Annual meeting will be held VIRTUALLY on Sunday, February 21st. Will be finalized before the February board meeting.
Sedona Subcommittee
Comments/Additional Topics
Adjourn