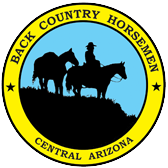 BCHCAZ Board Meeting – February 1, 2021
Zoom Meeting can be used by a Smartphone.
 https://us02web.zoom.us/j/89107297809?pwd=UU1xWTczdzA1VDhBTGJ1WDBkOGlsZz09
Roll Call – Quorum
President – Craig Ferdig

Vice President – Gayle Gardner (provided update just prior to meeting)

Secretary – Rene Ferdig

Treasurer – Dan Thornhill

Trails – Spike Hicks
Approve Agenda:  Approved
Financial / Meeting Update – Dan
$26,600 starting balance

Ending balance $28,074

Money Market ending balance $5,048.59

56 paid memberships for 2021
2021 Annual Meeting Agenda
Time:  10:30am

Open to all current members and back to 2019, voters only 2020 members 

Jason – Prescott Forest Service Update

2020 Update

Bikes / eBikes

Signage

Grant Update

Kendrick Mountain

Public Lands – Alan White
Craig – National Director for BCHA

Dan – elected as VP for State BCHAZ

Katherine – Membership and Volunteer Coordinator
Volunteer Hours

Upcoming Trail Rides – 

Checking on Little Thumb Butte ride

Monthly rides

Safety and Liability / Lawsuits

We have general liability coverage

Waiver for riders on casual trail rides

Horse Lords event in May
President

VP

Secretary

Treasurer

Membership Coordinator – Katherine Thornhill nomination
Joan and Stephanie of Sedona committee continue exploration of Western Gateway trail modifications and/or work-arounds to allow safe use by equestrians.  Primary objective at present is to modify or establish safe routes for equestrians to ride safely from Cultural Park parking area to Fay Canyon/Aerie parking area. 

 Redesign of Western Gateway trails took the all-user friendly Girdner trail, the only route from Cultural Park to Fay Canyon, out of the wash and recut it onto the hillside.  The resulting new Girdner is narrow with precipitous drops.  The new trail is not suitable for equestrians or novice/intermediate bike riders all the way through.  These riders are stopped from friendly, safe passage with no alternative trail, by a section of the new Girdner trail approximately 75-100 yards long.

12/10/20 – Joan and Stephanie addressed this 75-100 yards on site with Jennifer Burns, former program director for RRRD, and Phil Kincheloe, local trail consultant to RRRD.  Jennifer, Phil, Joan and Stephanie identified areas to widen the trail in places and add at least 3 turnouts with sufficient line of sight for any type of user to step off the tread for same or opposing direction traffic to pass.  These improvements will allow users of any type or skill to travel the entire "Girdner trail line" safely.

A similar situation exists on a 25 foot section of Axis trail at the Dry Creek crossing, i.e. the trail is OK for all users except for this one 25-foot section.  Also, on 12/10/19, after 45 minutes of exploration and discussion, Jennifer and Phil are comfortable with a reconstruction alternative recommendation for this section of Axis.

On 12/15/20, this same team addressed the new trail Outer Limits.  Again, there is approximately one mile of Outer Limits which is unsuitable for equestrian and novice/intermediate bike riders.  We agreed this section of Outer Limits should probably left for the technical bike riders as there is likely an old cattle trail that can be more easily prepared and sanctioned as a suitable go-'round for these users.

On 1/22/21, Joan, Phil Kincheloe and Stephanie reconned the cattle trail mentioned above and found it to be an appropriate alternative to the technical section of Outer Limits.  The trail would require a minimum amount of construction, is scenic and suitable for all types and level of trail user.

Next step, tentatively scheduled for 2/3/21, Jennifer Burns, Phil Kincheloe, Joan and Stephanie will meet to draft document above recommendations and strategize best approach for presentation to RRRD.
Spike

will put eBikes stickers on Almosta Trail
National BCHA

– Craig is attending monthly national meetings with responsibility to report policies to state and local chapters.  $5 to State.  $18 to National.
Comments/Additional Topics
EEE  – Meeting for Verde Valley / Sedona 2/2/21. Request to forward invitation to BCHCAZ members who live closer to that side.
Adjourn