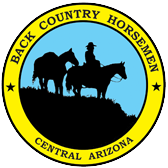 BCHCAZ Board Meeting – May 4, 2021
Zoom Meeting can be used by a Smartphone.
https://us02web.zoom.us/j/89107297809?pwd=UU1xWTczdzA1VDhBTGJ1WDBkOGlsZz09
Roll Call – Quorum
President – Craig Ferdig

Secretary – Rene Ferdig

Treasurer – Dan Thornhill

Membership – Katherine Thornhill

Trails Maintenance – Spike Hicks 

Sedona – Joan Bouck

Trail leader – Christina McCarty
Agenda:  Approved
Financial / Membership Update – Dan
Membership – 3 more memberships.  80 + 3 that Craig has applications for.

Need new insurance company.  Christina uses EQGroup for Starfish Riders.  July 19

th

the policy will lapse and needs to be replaced by then.
Trails

Salida Gulch gate – cowboy gate near the back, but nothing needs to be done until the fall.

Almosta Trail – Mint Wash, heavy equipment on private land messed up the wash.  Spike will contact John Hunt.

Kendrick Mountain re-supply. Kaibab Nt'l Forest has new head, moving slow.  Trail is overgrown and trees are down.   Mark Stevropolis will not be available due to fire season

Grant request for Forest Service for chainsaw and other tools.  BHCA gave us a grant for $600 + $400 from us.  Mark can get two custom made chainsaw attachments for pack animals

.
Self-Defense on Horseback clinic – Horse Lords, May 15

th

  ($150 per rider / $30 audit).  18 audits and 10 riders

May 8

th

– 9

th

  Ned Leigh 2-Day Horsemanship Clinic

FULL

with 10 riders and .  Auditor spots only available.   ($275 per rider / $20 auditor fee per day)
June 5

th

Little Thumb Butte members ride. 

FULL 

Jim Higgs will lead the trail.
Starting to receive donations for auction.  Shelly and Claudia will spearhead donations search.

Going to get rid of the old flyer.  Craig, Wendy, and Katherine will work on new flyer design.

JC is interested in being auctioneer

Initial meeting had six participants, commitees formed.
Girdner trail turnouts to be carved out.  4-5 turnouts identified for other trail users coming up the trail. Work schedule Fall 2021 / Spring 2022 hasn't been made up yet, but hoping for Fall 2021.

Getting better response from Chris Johannson. 

Parking is being enforced at Bell Rock horse trailer parking ($80).

Craig will ride with Chris J for June 12

th

to show Chris what it's like for equestrians.  Or June 19

th

.

Sedona Red Rock Trail Fund would like to show BCHCAZ as a partner. Funds a lot of the trail work in Sedona.  (about $1 mil in the past 6-7 years).  We will allow them to use our logo on their website.  Board members voted on this and approved.
. 
Spruce Mountain 307 grant – 15k approved, we committed $1500 to help

$25k grant has not yet come in, but no crews will be available (will be assigned to fire duty)
Tickets are on sale (full audience)

Parade – 5 people so far for the parade.  Theme is Western History. Question came up of should all participants in the parade be members?  Only 5 members volunteered.  Some board members would like a way for people who can't ride or walk to participate in the parade.

Joan will reach out to people in other communities to get volunteers for the parade.

Bartending – 12 people have volunteered for bartending.  No one for downstairs bar.

All volunteers must have BCHCAZ shirt.  Katherine working on that.  Volunteer shirts will be $15.  Shirts are $35 for everyone else.
Groom Creek Horse Camp

 

Spike bought a gate and took it to Groom Creek for them to install. Checking on the panel.

Susan Johnson nor Jason has responded to clean-up.

Spike checked with Susan Johnson on replacing a wooden tie-up with a metal one.  Susan will let Spike know.
Adjourn.   Next meeting is Monday, June 7th