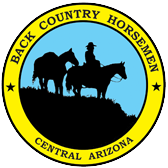 BCHCAZ Board Meeting – June 7, 2021
Zoom Meeting can be used by a Smartphone.
https://us02web.zoom.us/j/89107297809?pwd=UU1xWTczdzA1VDhBTGJ1WDBkOGlsZz09
Roll Call – Quorum
President – Craig Ferdig
Vice President – Gayle Gardner
Secretary – Rene Ferdig
Treasurer – Dan Thornhill
Trails – Spike Hicks
Agenda:  Approved
Financial / Membership Update – Dan
o   Financial – $32,420 in checking with all checks cleared. $5,049 in Money Market
o   Membership – 88 members plus one with incomplete form.  National thinks we only have 71.  Dan will compare lists.
o   Four volunteer days will be needed this year.
o   Kiosks can be adopted for maintenance.  Craig will contact Jason for adoption of the WV trail head kiosk, the Almosta Trail kiosk, and potentially the kiosk on Scarlett.
o   Campers without horses will be allowed into the horse camp. Spike talked to camp hosts, Joe and Nancy.  They were directed by Susan Johnson to accept campers without horses.  Reservation.gov is taking reservations from people without horses, but should only be taking campers with horses.  Spike will address this with Susan Johnson first.
o   Spike is still missing the 16' replacement panel. Will check on the status of the order.
o   Wooden post has broken off one of the hitching rails.  Spike will take care of that one.
o   Craig proposed an August weekend at Groom Creek for BCHCAZ
o   Self-Defense on Horseback clinic – Horse Lords, held May 15th with 18 auditors and 10 riders
o   Ned Leigh 2-Day Horsemanship Clinic held May 8th – 9th  with 9 riders and 20+ auditors.
o   Little Thumb Butte members ride was held on June 5th with 24 riders and 30 lunch participants.  Ann (Little Thumb Butte Bed and Breakfast) put on a tremendous lunch after a fantastic ride with 8 river crossings.  Craig will schedule the 2022 ride with Ann soon, for May 2022.
o   No further trail riding events planned.
o   Everything moving forward.  No contributions yet.
o   Horse Lords want to join BCHCAZ and will be attending Bumblebee and offered a one hour demo of Safety on Horseback.
o   Mark Strevropolis will offer a packing demo if he has off that weekend.
o   Wendy created and printed 100 flyers.  Some were distributed at the Little Thumb Butte ride.
o   City of Sedona and Forest Service are dragging their feet on signage. We have the budget to pay for it.
o   Craig will ride with Chris Johansson on June 12th to show Chris what it's like for equestrians on the Girdner trail to identify turnouts required.  In reference to the note in last month's minutes (Girdner trail turnouts to be carved out.  4-5 turnouts identified for other trail users coming up the trail. Work schedule Fall 2021 / Spring 2022 hasn't been made up yet, but hoping for Fall 2021.)
o   We have been given $32,500 total in grant money which must be used in the next year and half.
o   Spruce Mountain 307 grant – 15k approved, we committed $1500 to help
o   $20,000 grant submitted jointly with Yavapai Trails Association, we received $17,500
o   Parade – be there at 7:00am. 13 signed up.  Two walkers signed up. Side walkers needed. Scouts will carry the banner.
o   Bartending – 17 people have volunteered for bartending.  We need 20.  Ask if BCHCAZ banner can be hung at the bartending.
o   Shirts vendor is overbooked and cannot have shirts done in time.  Order not placed due to that.  Some people have offered to lend BCHCAZ shirts (Savanna, Spike, and a couple others).
 Adjourn.  Next meeting is Tuesday July 6th at 6:30