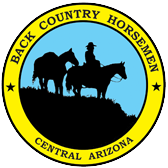 BCHCAZ Board Meeting –  May 4, 2020
Conference Call-in permanent number: (978) 990-5239, ID: 351324
Roll Call – Quorum
President – Craig Ferdig
Treasurer – Dan Thornhill
Secretary – Rene Ferdig
VP – Gayle Gardner gave updates and approvals prior to meeting, but could not attend.
Approve Agenda:  Approved
Previous Minutes see highlight from 4/6/2020 meeting minutes.
Committee Reports – Old Business
Finance – no new income or expenses in the last month. We have $22,927.78 in checking, $5,046.50 in money market.
Bumblebee committee had its first meeting 4/30/2020. We need more volunteers!!
Almosta Trail System. Craig Ferdig and Katherine Thornhill rode the trail on 5/1 and identified areas that need clean-up.  $3800 bid by Arrow Fire Prevention Service for crew of 12 people to walk in 5 miles, clean up, and walk out.  Agreed to by Gayle (VP), Dan (Treasurer), Craig (President), and Rene (Secretary).   Ribbon marking will be needed prior to cleanup.
Sedona Trails – Trail south of Sedona checked out by Richard, Craig, Saara, and Gayle. Very challenging, rocky, very steep step downs/ups, two crossings over Oak Creek.  Could be cleaned up with minimal effort, but requires seasoned trail horses and riders.
Events
Rodeo/Parade – 2020 parade is still on. $100 entry fee. Gayle will coordinate the parade and bartending for the rodeo.
Annual Fall Benefit – Some people wanted to move from Bumblebee this year. Research into alternatives showed other venues more expensive and/or already booked for appropriate weather months.  Less risk to remain at Bumblebee this year.  Kelly has confirmed we are penciled in at Bumblebee for weekend of 11/6, if they're able to be open.  Suggestions for activities:

Poker Ride
Horse Massage with Kathy Kentera (potential)
Orienteering and Geocaching class and activity
Other?
Requesting $2,000 for budget for Bumblebee. (Approved)

Christmas Party – Katherine Thornhill will head up our Christmas Party for December 11th.
2021 Rose Bowl Parade – from March meeting, Gayle will check into this possibility.
Cowboy Poets – still scheduled for 8/9. Jim Buchanan and volunteers.
Groom Creek – postponed until COVID-19 activities are cleared for work
New Business
BCHCAZ Logo signs and marketing request. Requesting $1000 for:

BCHCAZ pins (200 for $400).
Map and triangle etiquette sign at Stringfield trail head requested by Jason (PV Nat'l Forest) – 2 signs – Approx $200 (included in the request for $1000 for logo'd items).
Add'l logo signs for trail etiquette at Peavine trail and Pioneer trail.

Emergency Equine Evacuation (EEE) will be putting out media this week with BCH information, which will be forwarded to BCH of America.
Gates discussion with Jason (PV Natl Forest). Geography dictates what kind of gates go in, and how wide the gate area is.
Comments/Additional Topics
Will be nice to have face-to-face meetings again, but only after it's considered safe and those attending are comfortable with face-to-face meetings.
Adjourn