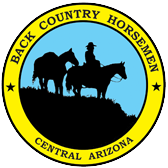 BCHCAZ Board Meeting –  June 1, 2020
Conference Call-in permanent number: (978) 990-5239, ID: 351324
Roll Call – Quorum
Roll Call – Quorum
 President – Craig Ferdig
 Treasurer – Dan Thornhill
 Secretary – Rene Ferdig
 Former President – Alan White
Approve Agenda: Approved
Previous Minutes: see highlights from 5/4/2020 meeting minutes.
Membership – 7 new member applications
Old Business
Committee Reports –
 Finance –
o $3800 expenditure for Almosta Trail cleanup.
o $396 expenditure to Craig Ferdig for the BCHCAZ pins.
o $18,941.78 in checking
o $5,046.91 in money market
Events
Trail Maintenance –
o Almosta Trail was partially cleaned up after it was marked by BCH two
members. All of trail 1937 was completed, but 2 miles of trail 622 (2 ½
miles in) were missed completely. Might be faster to get there from the
ranch access.
o Savannah Hafer – Eagle Scout candidate, using trail etiquette and trail
cleanup. Savannah and other scouts will clean up another trail they can
access better. Alan volunteered to be a crew leader if needed.
o Groom Creek cleanup – Waiting for new date. Savannah also working
with Spike to bring in scouts for a cleanup.
o Mingus Mountain – Forest service has a 3 to 5 years plan including trailer
parking area on the north side with tunnel to go under the road to link up
all the trails.
o Alan received very positive un-solicitated comments on Almosta Trail
system.
 Rodeo/Parade are still on the scheduleo Bar Tending – potential for cancellation, depending on conditions. Gate
proceeds determine
Bumblebee Annual Fall Benefit
 4 subcommittees – members Craig Ferdig, Wendy Timmel, Rene Ferdig, Dianne
Echazabal, Saara Ronan, and Shelly Day
o Operations – Led by Craig Ferdig.
 Kelly posted Bumblebee annual event on the ranch site. New
signup website complete and working well. Attendees make
reservations on the website.
 Proposed add'l funds for arena rental for the weekend. $300
 Same price for members and non-members. $160 for the
weekend.o Entertainment / Riding – still need a leader
 Scavenger hunt / orienteering and map reading class led by
Savannah and scouts
 EMT / first aid clinic on trail first aid for horses and people
 Self defense on the trail
 GMR have drill team which might be interested in a practice
performance.
 Obstacle course?
o Communications – led by Wendy Timmel
 Daily events listed for attendees
o Auction – still need a leader
 Saara Ronan interested in helping, or maybe taking point.
 May not have many donations due to conditions of economy
Sedona Subcommittees
 Sedona – report from Joan Bouck: no updates from the Red Mountain group
since March.
 Camp Verde – no updates
New Business
 Packing equipment stored at Alan's location. Saving $800-900/year on 10×10
storage rental. Long term solution needed? Alan ok with keeping it.
 Leftovers from last year's auction at Alan's. Garage sale?
Comments/Additional Topics
 Pro-active communication with different groups regarding eBikes is good.
Adjourn