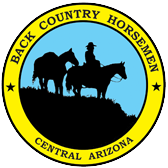 BCHCAZ Board Meeting – Sep 8, 2020
Conference Call-in permanent number: (978) 990-5239, ID: 351324
Roll Call – Quorum
President – Craig Ferdig

Vice President – Gayle Gardener

Secretary – Rene Ferdig

Treasurer – Dan Thornhill

Trails – Spike Hicks

Sedona – Joan Bouck
Approve Agenda:  
Previous Minutes: Bumblebee and Christmas party still on.
Membership – 
Old Business
Committee Reports – 
Finance – Available for those who would like to see it.  No big changes from last month.  $100 Bumblebee donation in account.
Events
Trail Maintenance – 

Almosta Trail 308 needs maintenance, Craig will check it out.

Groom Creek is open until end of October

Request for packing in November has been cancelled due to COVID

Assisting with Peavine trail maintenance this Friday.  Craig will provide coffee and donuts for volunteers. 8:00am (Rd 4 south and the Peavine)

Assistance with Gully Wash at American Ranch requested.  Liz Mahon. Need 8 people, max.  Craig will provide post hole digger and t-post tamper.  Per Jason's request, American Ranch will monitor and maintain the fence to keep quads out.
Bumblebee Annual Fall Benefit 
Operations – Led by Craig Ferdig.

Kelly reports 70 confirmed reservations.  20 people who want to go but haven't confirmed.  If COVID kicks up, October 1 is our final date for canceling Bumblebee and getting our money back.  We will meet on 9/28 at 6:30pm to determine if keeping or cancelling.

Entertainment / Riding – 

Cowboy poet – Mizka Paget

EMT / first aid clinic on trail first aid for horses and people – Kathy Kentera

Intro to horse massage Saturday- Kathy Kentera

Savannah is discussing teaching the map reading class with her scout troop.

Communications – led by Wendy Timmel

Daily events listed for attendees

Taken over FB activity

Auction – 

Craig sold the leftover tack sale stuff from last year to Cowboy Corner in exchange for three $60 gift certificates. 
Sedona Subcommittees
Sedona – report from Joan Bouck: Bell Rock access for equestrians pursued. Single track needs space for horses to pull off or turn around. Pushing for equestrian guidelines here and on other trails in the system.
New Business 
Social scheduled for September 25

th

at Gayle Gardener's house.  Details will be emailed to everyone.
Comments/Additional Topics
Adjourn