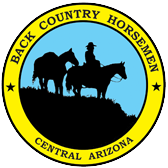 BCHCAZ Board Meeting – September 13, 2021
Zoom Meeting can be used by a Smartphone.
https://us02web.zoom.us/j/89107297809?pwd=UU1xWTczdzA1VDhBTGJ1WDBkOGlsZz09
Roll Call – Quorum
· President – Craig Ferdig
· Vice President – Gayle Gardner
· Secretary – Rene Ferdig
· Treasurer – Wendy Timmel
· Trails – Spike Hicks
· Sedona committee – Steph Giesbrecht
Agenda: Approved
· Financial / Membership Update – Wendy
o Financial – $31,540 beginning balance. Ending balance $30,630. $5,050 in money market.
o Membership – 97 members now! Saara has volunteered to help with managing membership.
· Trails:
o Need to renew the agreement with the forest service. Craig looking into it.
o Prescott Nat'l Forest and Kaibab Forests will open 7/9
o National Trails day volunteers needed for 9/25 on Spruce Mountain trail. Hitching rail had tree fall on it and a grill in the picnic area needs to be put back in the ground, in addition to trail work.
o SAM – System for Award Mgmt, reactivate Dun & Bradstreet number, reactivate our CAGE (?) number has been completed.
· Groom Creek Horse Camp
o Waiting on 16' Powder River replacement panel – will cost $400 ($200 has been put down)
o Spike spoke with Susan Johnson. 5 wheelbarrows and manure forks donated by Sally Allen for the Saddle Bags group. Hosts have quit, Susan is looking for replacement hosts.
o Cleanup in April 2022, need two weekends to get it done.
o Rock breaking class put on by the forest service was held this week.
· September
o No scheduled events in September. Potential group ride in October.
· Bumblebee Update
o Reservations are open!! ~45 people are signed up. Some stalls are available.
o Some donations have started rolling in.
· Sedona Update
o Got approval on carsonite signs. BCHCAZ pledged $1,000.
o Kevin Kuhl is Forest's replacement. Chris Johanssen is confident in his abilities.
o Chris wants to move forward with western gateway work that has been identified.
.· Christmas Party
o December 3rd or 4th (confirming with the venue)
o Katie McAlister will be point on organizing the Christmas Party.
Adjourn. Next meeting is Monday, October 4th at 6:30.