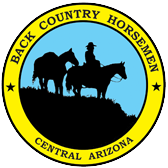 BCHCAZ Board Meeting – October 4, 2021
Zoom Meeting can be used by a Smartphone.
https://us02web.zoom.us/j/89107297809?pwd=UU1xWTczdzA1VDhBTGJ1WDBkOGlsZz09
Roll Call – Quorum
· President – Craig Ferdig
· Vice President – absent
· Secretary – Rene Ferdig
· Treasurer – Wendy Timmel
· Trails – Spike Hicks
· Sedona – absent
Agenda: Approved
– Financial / Membership Update – Wendy
o Membership – 107 members (up 8 in the last month)
o Financials – starting balance $30,630.64, ending balance $30,069.14.
– Trails
o Trail maintenance at Almosta Ranch, Saturday October 16th. 8am to 2pm. Meet at the Outer Loop station, leave at 8:00. Room for 5-6 vehicles to park at the trail head. Working on trail # 1937.
o $1500 contribution to the trail maintenance. If needed a 5th day, we and Yavapai Trails Association can donate an additional $400 each for Aero.
– Groom Creek Horse Camp
o Hosts have quit and the FS is looking for new hosts
o The new manure forks have disappeared.
o The tie-up next to toilets (near site 23) has been repaired.
o Spike rode the 307 trail, and it shows improvement after the recent maintenance
– Bumblebee Update
o 65 people are signed up. Wait list on stalls.
o Anyone signing up for BCHCAZ membership before or at Bumblebee will have good membership through 2022.
o Jacque Gorman will help Wendy with the sign-up tent on Friday morning.
o More donations rolling in.
– Sedona Update
o None
– Christmas Party
o Friday, December 3rd at the Prescott Airport Centennial Hall.
o Katie McAlister will be point on organizing the Christmas Party.
o Gail Stiger (sp?) – cowboy poet will perform