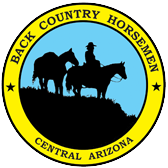 BCHCAZ Board Meeting – November 1, 2021
https://us02web.zoom.us/j/89107297809?pwd=UU1xWTczdzA1VDhBTGJ1WDBkOGlsZz09
Roll Call – Quorum
· President – Craig Ferdig
· Vice President – Gayle Gardner
· Secretary – Rene Ferdig
· Treasurer – Wendy Timmel
· Trails – Spike Hicks
· Sedona – Joan Bouck
Agenda: Approved
· Financial / Membership Update – Wendy
o Membership – 107 members. $400 in new memberships.
o Financials – starting balance $30,069.14, ending balance $28,740.
o Expenses for Groom Creek gate, Bumblebee materials, and a few other small expenses.
o Network for Good donation for $25 or $40.
o Sedona donations are picking up.
· Trails
o Trail maintenance on Almosta Ranch / WV trail #1937 was held October 16th. Cleared ½ mile of trail.
o .Aero Fire will clear 622
o Over the Hill Gang will finish off 1937
o ACE will clean up 625, 627, and some of 622
· Groom Creek Horse Camp
o FS is still looking for new hosts
o Spike has the panel. The camp is closed and a date will need to be arranged with Susan Johnson to install it.
· Bumblebee Update
o 58 people are signed up. 18 signed up for Saturday night dinner.
o Anyone signing up for BCHCAZ membership before or at Bumblebee will have good membership through 2022.
o All auction items are ready for transport to Bumblebee
· Sedona Update
o Dual sided 72" signs purchased for Sedona trails
o Will work with Boy Scouts to determine a plan for installing the signs
· Christmas Party
o Friday, December 3rd at the Prescott Airport Centennial Hall. Food donation encouraged from each attendee – will go to a local food bank.
o $45/person. BCHCAZ will subsidize $20/person. Deposit has been paid.
o Katie McAlister will be point on organizing the Christmas Party.
o Gail Stiger (sp?) – cowboy poet will perform. We will cover his dinner cost.
Adjourn. Next meeting is Monday, December 6th at 6:30.