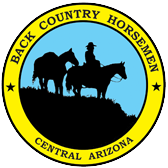 BCHCAZ Board Meeting – July 6, 2021
Zoom Meeting can be used by a Smartphone.
https://us02web.zoom.us/j/89107297809?pwd=UU1xWTczdzA1VDhBTGJ1WDBkOGlsZz09
Roll Call – Quorum
President – Craig Ferdig
Secretary – Rene Ferdig
Treasurer – Wendy Timmel
Trails – Spike Hicks
Sedona committee – Joan Bouck
Agenda: Approved
Financial / Membership Update – Wendy

Financial – Wendy took over after Dan resigned. Finances are now online and Wendy will set us up on QuickBooks to fully automate the books.

$5,049 in money market
$32,224.45 in checking

Membership –
Trails:

Need to renew the agreement with the forest service. Craig looking into it.
Prescott Nat'l Forest and Kaibab Forests will open 7/9
Discussion around providing BCHCAZ trail maintenance volunteers with a free BCHCAZ t-shirts. Wendy will do some designs for a new t-shirt and send to us for review.
Groom Creek Horse Camp

16' replacement panel is still on backorder.
August BCH weekend 8/20-22.
$1500 donation to the maintenance on the "stair steps" of trail 307 up to Spruce Mountain to be completed this year.
June Events:

Sedona ride with Chris Johannsen (Red Rocks Ranger District) went well showing him what it's like to be an equestrian on one of the trails.
July events

Bartending brought in $1,057.82
Parade went well, but no prizes this year.
August events

Cowboy Poets breakfast is Sunday August 15th. BCHCAZ does the cooking, serving, and clean-up. 15-20 volunteers needed.
Custom saddle will be raffled (tickets sold at rodeo).
Bumblebee Update

Everything moving forward. No contributions yet.
Horse Lords want to join BCHCAZ and will be attending Bumblebee and offered a one hour demo of Safety on Horseback.
Mark Strevropolis will offer a packing demo if he has that weekend off.
Wendy created and printed 100 flyers. Some were distributed at the Little Thumb Butte ride.

Sedona Update

Coconino National Forest is now open.
Girdner trail multiple intersection areas, needs signage including where a trail might be difficult for horses
Trail etiquette signage will be put in place. Need carsonite signs.

Christmas Party

December 3rd or 4th (confirming with the venue)
Katie McAlister will be point on organizing the Christmas Party.

Prescott Rodeo

Rodeo crew was very happy with how BCHCAZ handled their bartending and hope to put the group into a better night next year.
Adjourn. Next meeting is Monday, August 2nd at 6:30.