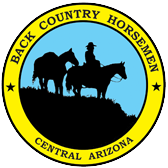 BCHCAZ Board Meeting – January 10th, 2023
Roll Call – Quorum
President – Craig Ferdig
Vice President – Gayle Gardner
Secretary – Wendy Timmel
Treasurer – Joan Bouck
Trails – Spike Hicks
Agenda:  Approved
Financial / Membership Update – Joan

Financials – Ending balance 12/31/22 $43,427.33.  State and National dues were paid in the last month.  We also signs for Sedona trails.
We need to get a refund from State for the web-site that we paid for.
Joan asked that we consider changing our fiscal year to match elections.  Currently elections are in February, but the fiscal year goes January to December.  Making this change would require a change in bylaws.  This will be discussed further in fall.
Holiday Party Recap–

Cost for the party was $1494.  The cost was questioned, but in the past we have subsidized all of our events as a thank you to members for their participation.  We will continue that, but will be careful to monitor all charges.  This year the bill was higher because we were charged a room and linen fee.  Next year it was suggested that we also look at other options.  Joan made the comment that it is important to function within our 501C rules.  Could spending the money on Social Events jeopardize our 501c designation.  The question is 'is the money used to further our mission'.  It was decided that the holiday party and annual meeting did meet that criteria.
Membership –

Memberhips List was sent to State.  They will send us an invoice to pay from.  For 2023 we will not requre a new application for returning members as long as we have a waiver on file for them.  It was discussed to update the application so they could indicate their communication preference – email, text, social media, mail.  Wendy will send out a reminder to the member list to renew their membership for 2023.
In 2023 previous month meeting minutes will be voted on and approved at each meeting.  Once approved they will be emailed to the current membership list as well as posted on our web-site.  This wasn't being done and will be corrected.
Bumble Bee P&L – Total collected $11539.  Total Net Profit $8914.  Good job everyone! 
Web-site – The web-site was recovered by Sedona Sky Media in Cornville and we were put on their server.  Total cost was $322 repair and re-activate web-site plus $120 6 month hosting/domain transfer plus $50 3-year subscription = $492.  This was well under the $2000 budget for a new web-site.
State Election – Zoom meeting to be held on 1/21 at 10am.  All member welcome to attend.  Current officers are President – Bill Arsenault,  Treasurer – Stephanie Geisbrecht, Secretary and Vice President – Open
Annual Meeting – February 25th at Centennial Center with Taco Buffet for lunch
Upcoming Events – Little Thumb Butte Ride/Meeting is reserved for Saturday, May 13th.
Adjourn.  Next meeting is Monday, February 6th,  6:00 pm