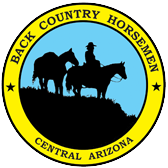 BCHCAZ Board Meeting – Aug 3, 2020
Conference Call-in permanent number: (978) 990-5239, ID: 351324
Roll Call – Quorum
President – Craig Ferdig
Vice President – Gayle Gardener
Treasurer – Dan Thornhill
Secretary – Rene Ferdig
Sedona chapter – Joan Bouck
Approve Agenda:
Previous Minutes: Rose Bowl Parade was cancelled.  We have two major events that look to happen.  November Bumblebee and Christmas party.
Membership – 3 more new members for the month
Old Business
Committee Reports –
Finance – Available for those who would like to see it. No big changes from last month.
Events
Trail Maintenance –

Almosta Trail # 308 needs some maintenance, mostly trimming. Christina reports it isn't worth paying a crew.
Deer Pass Trail – goes down to Oak Creek (off 89A). Very rough. Joan rides the other side from Turkey Creek.
Western Gateway trail system just opened up.
Another request for packing in November on the Dogue (?) trail.
Rumors of Groom Creek being open
Bumblebee Annual Fall Benefit
Operations – Led by Craig Ferdig.

Kelly reports 48 confirmed reservations. 20 people who want to go but haven't confirmed.  If COVID kicks up, October 1 is our final date for canceling Bumblebee and getting our money back.

Entertainment / Riding –

Cowboy poet
Scavenger hunt / orienteering and map reading class led by Savannah and scouts
EMT / first aid clinic on trail first aid for horses and people
Self defense on the trail

Communications – led by Wendy Timmel

Daily events listed for attendees
Taken over FB activity

Auction –

Craig reviewed last year's "swap pile". Not much that would be worth anything.  Doug (Cowboy Corner) knows a guy who buys all the tack that Doug won't sell.
Saara Ronan has collected many very good donations
May not have many donations due to conditions of economy
Sedona Subcommittees
Sedona – report from Joan Bouck: 2020-2021 maintenance season starts this fall.  Two trails in the Village at Oak Creek from Red Rock Trails Enhancement program.  Dairy Springs and Pine Valley trails.  Joan will hike them to check them out.  Parking will be put in.
Chris Johanssen at Red Rock Ranger district, will support more trailer parking. Have been enforcing trailer parking at Bell Rock trail head
Western Gateway trails are supposed to be horse trails but not designed as horse trails. Parking at old cultural center.
Jacks Canyon Trail and Hot Loop Trail. Will get more popular with Western Gateway Trails opening up.
Camp Verde – no updates
New Business
Comments/Additional Topics
Adjourn